Oh, I've been sooooooo very bad about blogging. Sigh. I am going to to better.
One of my New Year's Resolutions is to blog more often. By this, I mean that I need to touch base at least once a week and update everyone on my life. There has been so much going on that I can't wait to share with everyone.
Also, I've felt that I really do just sleep better if I can get things off my chest, you know?
So, to start off the New Year on the right foot, I'm linking up with Toni at
A Bowl Full of Lemons
and joining her New Year's Organizing Revolution!!! Each week, she will be assigning a new area in the home that needs to be organized. You have until Thursday night to post pictures and link up. On Friday, voting will begin. The voters decide who wins each week and she has some REALLY nice prizes up for grabs.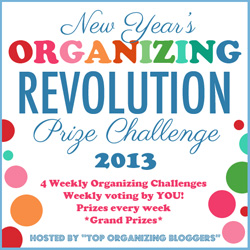 This week, we're focusing in the office area of the home. If you don't have an office, she wants you to focus on the desk area. My home office is in the 3rd bedroom's closet. I have a desk inside the closet AND storage space in there. I need to organize it more. I have it organized, kind of. I just spent the whole weekend cleaning it out, so I have a small jump-start. Let's see what happens when I focus there for a week!
I want that NeatDesk scanner ;)
Here is a picture of my home office area before:
I'll make sure I update here so you can see how it turned out! :)
XOXO